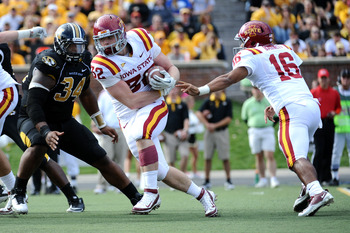 January 24, 2013            7:15am
Defensive lineman Sheldon Richardson was one of the most-hyped players to come through the Missouri Tigers program in the last few years. He was recruited by the Tigers of his home state, but started his collegiate career at College of the Sequoias, a junior college in Visalia, California. He made his return to his home state to make his debut with Mizzou in 2011, when he racked up 37 tackles, eight tackles for loss and two sacks in only eight games, two of which he started.
He moved into a starting position in 2012 and finished the season with 75 tackles, 10.5 tackles for loss, four sacks, three forced fumbles, three batted passes, a blocked kick and he topped it all off with a 60-yard fumble return. After his impressive season, he was named to the 2012 All SEC First Team, becoming Missouri's first player to win the honor.
Many mock drafts have Richardson being selected in the first round, as he could add a significant burst to a team looking to boost the production of their defensive line. The 6'4, 295-pound defensive tackle not only shows an ability to stop the run, but to rush the passer as well and has found success playing against some of college football's best offensive lines in the SEC.
He is No. 8 on SB Nation's big board and according to his SB Nation scouting report, he has the potential to be a top-10 pick.
Richardson has an ideal skill set to make a quick impact in the NFL. He's going to blow people away at February's combine with his speed and agility at 300 pounds. Richardson plays defensive tackle with a relentless attitude and a mean streak. He should find a home in the first round with his draft ceiling being the first ten picks.
Pros:
Richardson has the size to be a dominant defensive tackle in the NFL
His size comes along with incredible speed and quickness considering the weight he's moving
He's athletic enough that Missouri coaches asked him to drop back in pass coverage occasionally
He's instinctive enough to accurately sniff out screens and draws
Explodes into tackles
Plays best against some of the toughest competition
Cons:
Only had one dominant season at FBS level
Sometimes stands up and loses leverage against blockers
Struggled academically throughout his college career
Underwent shoulder surgery after the 2011 season
Seems to run his mouth a bit too much in interviews
Richardson would likely fit best in a 4-3 defensive scheme where he could do the most damage, especially when it comes to providing pressure on the quarterback from the middle of the line. Some teams that may be interested in the Missouri defensive tackle are the Titans or Seahawks, who are likely looking for depth on the line.
From DraftBreakdown.com:
Quotables
– From ESPN's Todd McShay:
– Richardson enjoys talking to the media, and had some interesting comments after Missouri's season-opening win, before his team's game against Georgia:
"If we execute," he added, "nobody in this league can touch us. Period."

On Georgia football: its "like watching Big Ten football. It's old man football."
Richardson was banned from talking to the press for a month by coaches after the incident.
Twitter
Richardson is on Twitter at @Godforshort
from:  http://www.sbnation.com/2013-nfl-draft/2013/1/24/3905744/sheldon-richardson-scouting-report-profile-nfl-draft-2013
———————————————————————————–
Sheldon Richardson was born on January 1st, 1989 according to http://vikingsauthority.com/player/sheldon-richardson/
January 1st, 1989
1 + 1 +1+9+8+9 = 29 = his life lesson = Skilled.  Talented.  Self-confidence.  Cooperation.  Teamwork.  Which team will he play for?
———————————————————————————–
January 1st, 1989
January 1st
1 + 1 +2+0+1+3 = 8 = his personal year (for 2013) = Status.  Prestige.  Social standing.  Discipline.
8 year + 4 (April) = 12 = his personal month (for April 2013) = Phenomenon.  Wait and see.
12 month + 25 (25th of the month on Thursday April 25th, 2013) = 37 = his personal day = Deeply emotional.
———————————————————————————–
Ages 0 to 27 are ruled by the sum of the first three letters of the name.
Sheldon Richardson
19 (S is the 19th letter of the alphabet) + 8 (h is the 8th letter of the alphabet) + 5 (e is the 5th letter of the alphabet) = 32
So the number 32 rules his first twenty-seven years of life.
32 = Football.  Winner.  MVP.  Mighty giant.  Larger than life.  Proud American.
———————————————————————————–
using the number/letter grid:

1      2      3       4       5       6      7      8      9
A      B     C       D       E       F      G      H      I
J      K      L      M      N       O      P      Q      R
S      T      U      V      W      X      Y      Z
Where:
A = 1              J = 1              S = 1
B = 2              K = 2             T = 2
C = 3              L = 3             U = 3
D = 4              M = 4            V = 4
E = 5              N = 5            W = 5
F = 6              O = 6             X = 6
G = 7              P = 7             Y = 7
H = 8              Q = 8             Z = 8
I = 9               R = 9
Sheldon Richardson
1853465 9938194165               87
his path of destiny = 87 = The trappings of wealth.
—————————————————————————————–
—————————————————————————————–
—————————————————————————————–
—————————————————————————————–
—————————————————————————————–
—————————————————————————————–
predictions for the year 2013 are at:
http://predictionsyear2013.com/
—————————————————————–
—————————————————————–
——————————————————————
discover some of your own numerology for FREE at:
—————————————————————————————–
—————————————————————————————–
—————————————————————————————–
learn numerology from numerologist to the world, Ed Peterson:
https://www.createspace.com/3411561
—————————————————————————————–
—————————————————————————————–
—————————————————————————————–